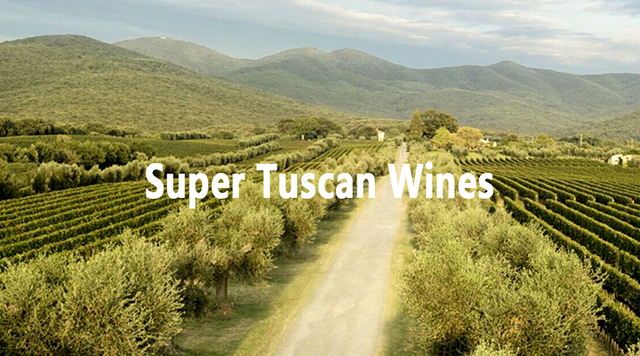 Super Tuscan Wines!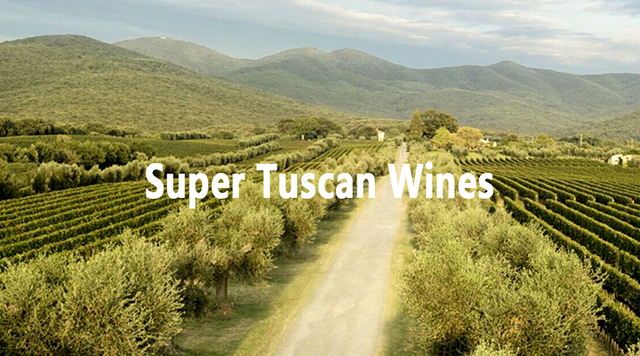 Italy has a wide range of wines, which differentiate in taste and characteristics, thanks to the different climate and soil. Tuscany is home to some of the
world's most notable wine regions and there is where a new category of wine was born: The Super Tuscan.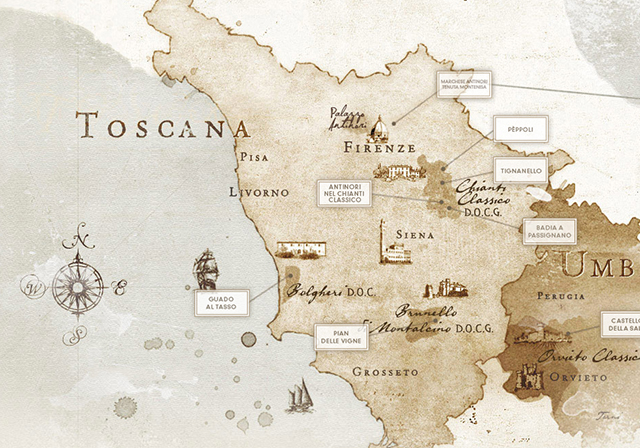 Super Tuscan wines are made outside DOC and DOCG regulations but they are considered of high quality and commanded high prices; many of these wines became cult wines. Their peculiarity is that they are made of a mix of different types of grapes such as: Sangiovese, Merlot, Cabernet Franc and Cabernet Sauvignon, and the wine age or ferment in oak barrels.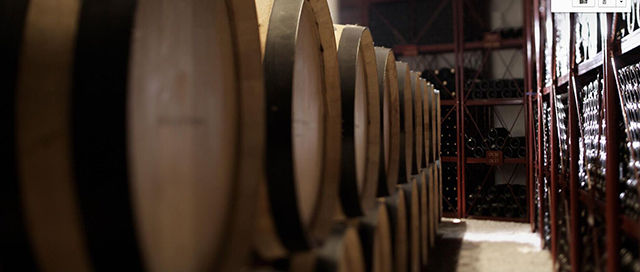 Super Tuscan wines quality is not comparable with other type of wines and because they can't be classified as DOC and DOCG, some of the Super Tuscan
wines are denominated IGT Tuscany or Bolgheri DOC Superior.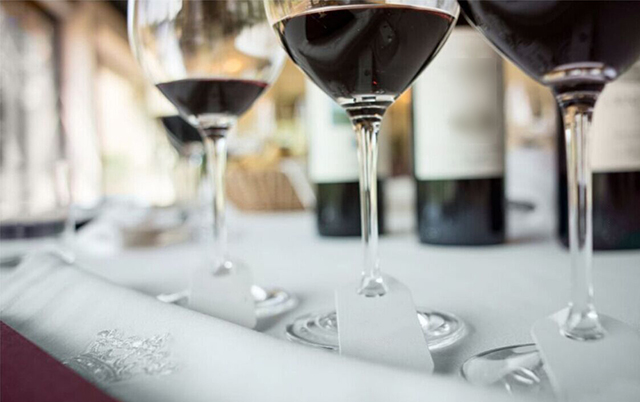 A professional Cold Chain Transportation
Super Tuscan wines are extremely sensible to the temperature; they need to be stored at a temperature up to 18°C to avoid the formation of molds and
preserve all their taste and flavour.
Saporita imported 4 different Super Tuscan wines through a Cold Chain Transportation (Temperature Controlled 11~18°C) to let you feel the best Italian
experience. (Available only at Pizza Saporita Chaoyang Park)

Marchesi Antinori – Tignanello 2014
RMB: 1,650/Bottle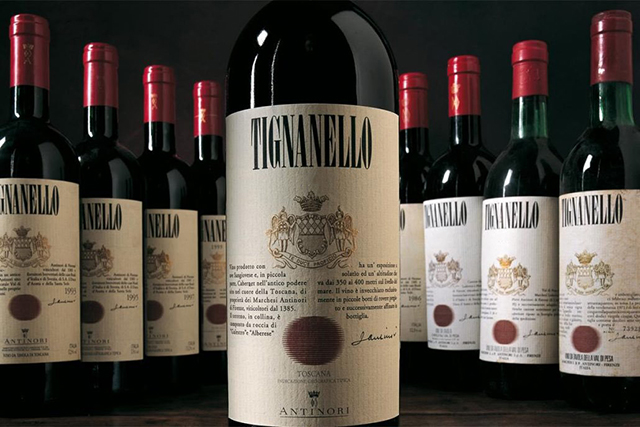 Tignanello was the first Sangiovese wine to be aged in small oak barrels and the first modern red wine to use such non-traditional varieties as Cabernet in
the blend.
Tignanello is a very intense ruby red in color. On the nose, the notes of ripe red fruit, together with cassis and blackberries, are in perfect balance with the
hints of chocolate and liquorice. The palate is rich, ample and vibrant and is endowed with lively and silky tannins which give a great complexity and an
important length to the finish and aftertaste. It matches perfectly with meat based dishes, cheeses and first courses.

Marchesi Antinori – Guado al Tasso 2014
RMB: 1,850/Bottle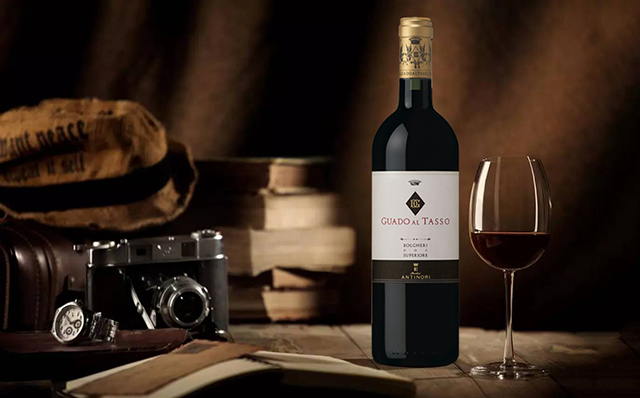 A blend of Cabernet Sauvignon, Merlot, Cabernet Franc and occasionally a small amount of Petit Verdot to best represent the complex and elegant terroir
found in Bolgheri.
Guado al Tasso is characterized by a rich and complex bouquet with notes of tobacco, toasted coffee and leather which fuse with the aromas of ripe berry
fruit. The palate is a vibrant one, with both tannins and freshness well present to give savor and persistence. The finish and aftertaste are spicy and fruity,
complete and fragrant. It is a vintage which a very important aging potential.
It matches perfectly with meat based dishes, cheeses, pasta with Bolognaise sauce, lasagna and other first courses.

Ornellaia – Vino Rosso 2014
RMB: 3,150/Bottle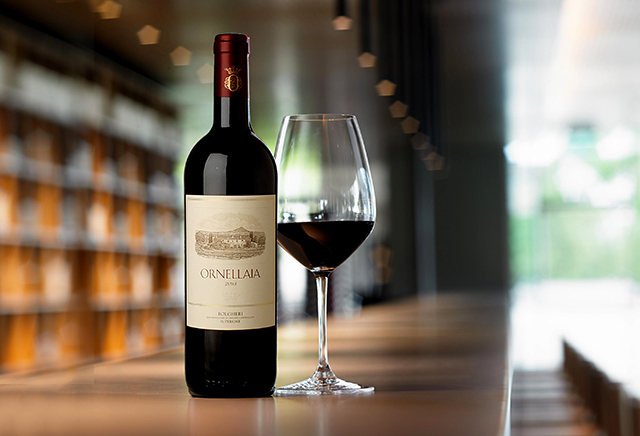 Ornellaia is a cuvée of Cabernet Sauvignon, Merlot, Cabernet Franc & Petit Verdot and the faithful expression of unique terroir developed in harmony with
nature.
The late ripening of the grapes allowed the fruit to fully express its liveliness and freshness. What is particularly striking is the high quality of the tannins on
the palate: silky, refined, without rough edges.
It matches perfectly with meat based dishes and different types of cheese.

Marchesi Antinori – Solaia 2000
RMB: 4,150/Bottle(瓶)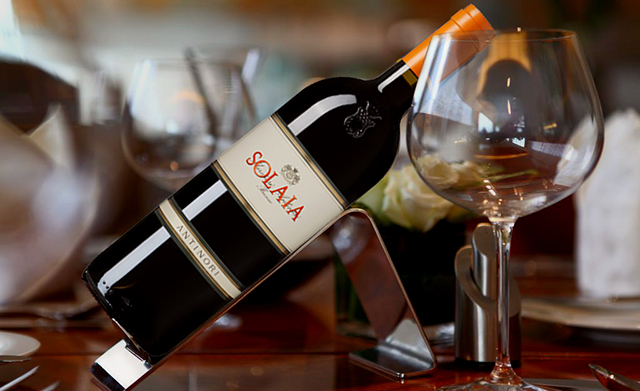 Solaia is a southwest-facing vineyard planted 351-396 metres (1,150-1,300 feet) above sea-level on stony calcareous soil of marl and friable albarese rock.
The wine offers aromas rich in their concentration of red and black fruit, it's intensely fruity and complex with a good structure, well-balanced, fresh in its
flavors and with much personality, solid and silky in its texture and tannins. The finish is of great finesse and persistence. It displays unmistakable varietal
flavor while retaining strong regional character.
It matches perfectly with meat based dishes and different types of cheese.